Article Categories
Recent Reviews
My Trip To Tsutaya Today
By
Kevin
on Nov 04 2011 12:22 AM
For those of you who do not know,
Tsutaya
is a Japanese retail store for DVDs, CD, games, and other assorted media to include Manga and comics. What's even better is that there's one located about five minutes (10 max) from where I live. Today, since
Super Mario 3D Land
debuted here in Japan, I decided to go and check it out. I also saw some other cool games while I was in there. Check the images out. By the way, taking pictures in this store is frowned upon so I had to take these very carefully. The last time I was in there, I took about 20 or so before being politely greeted by one of the employees. At any rate, I didn't get caught this time. Enjoy!
---
(click on image for full view)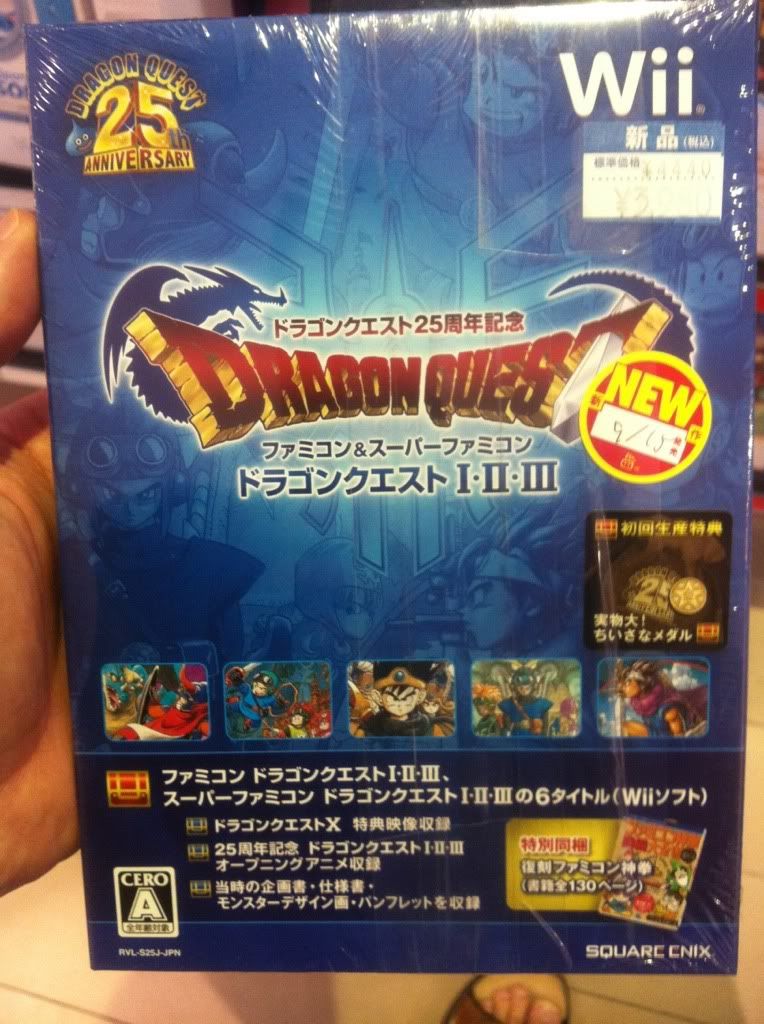 The first item that caught my eye was this boxed
Dragon Quest
set for the Wii. I'm not quite sure what all is in the box, but I think it's pretty obvious to note that
Dragon Quest
I, II, and III are included. It appears that
Dragon Quest
6 may be included as well, but I'm not too sure. All I see is a 6 on the box. Maybe CG's brother can translate for us? Also, something else worth noting is the price. The price says ¥4,440 Yen, which is marked down to ¥3,980. How much is ¥3,980 you ask? Well, that's about equal to
$50 US Dollars
, which is a great price for a collector's edition
Dragon Quest
bundle. I might even go back sometime soon and nab it, just for the sake of having it. I mean, we'll never see something like this in the states, right?
---
(click on image for full view)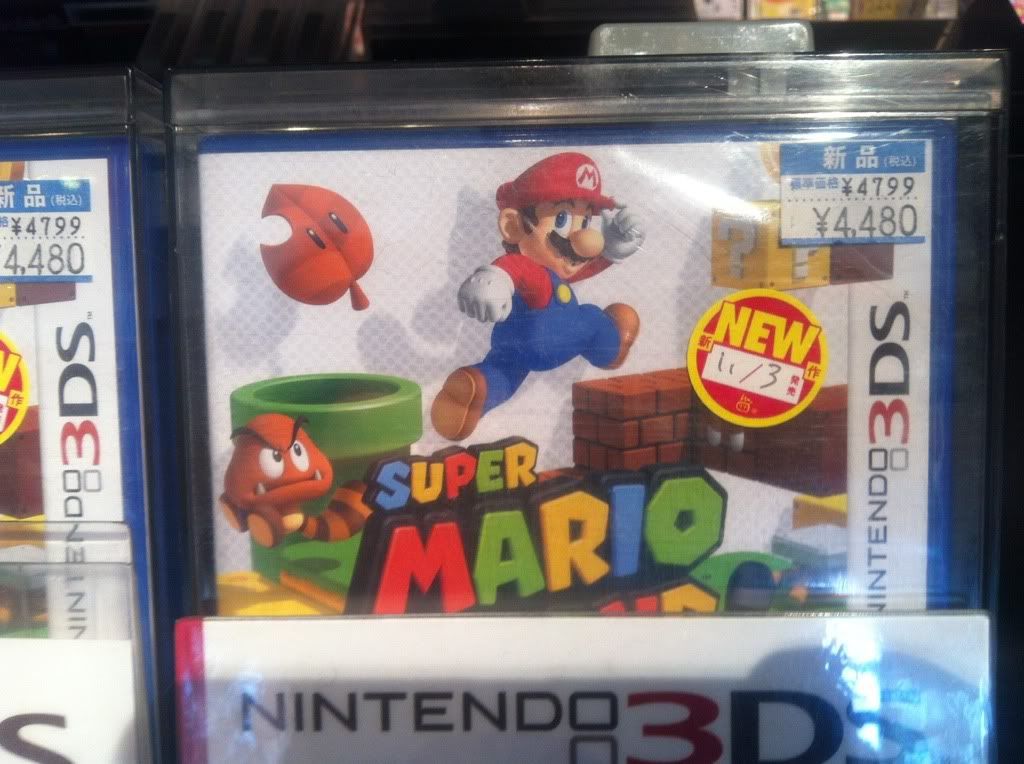 Ahh, and here it is. This is the sole reason I took a special trip to Tsutaya today. Look at it! It's all wrapped up in shiny cellophane, placed upon the shelf with the utmost pride and respect. Very nice! It's listed for ¥4,480 Yen, which is about equal to
$57.40 US Dollars
. That's way too expensive in my book. Also, you're notice that it was even marked down more than ¥300 Yen. Wow...just wow! Nonetheless, it was pretty cool to actually pick it up and sneakily snap the image.
---
(click on image for full view)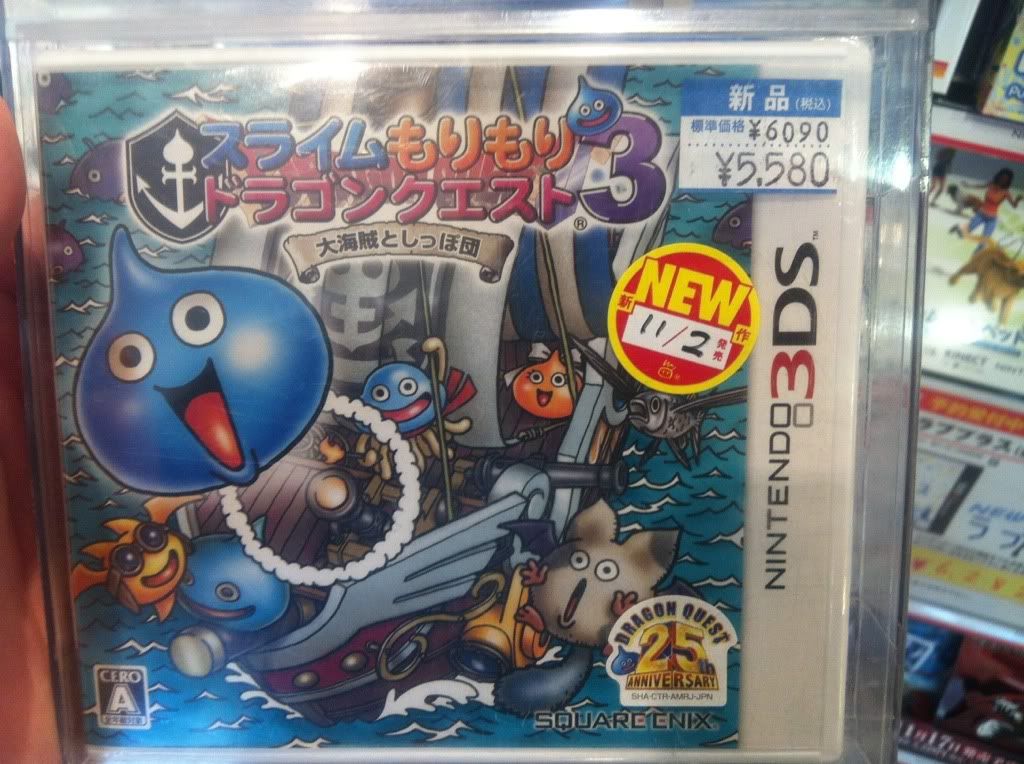 The last Nintendo-related item I saw on the shelf was a title by
Square-Enix
, called
Slamori 3
. I actually am not sure if
Slamori 3
is the actual title, and I doubt it is, but that's what the link says above. I only had about 2-3 minutes to research
Square-Enix
titles so maybe (again) CG's brother can translate that? Man oh man. Look at that sticker price! It's listed for ¥5,580 Yen, which is equivalent to about $71.49 US Dollars. Good lord, what's so special about that?
---
Well, there ya have it. That was actually pretty exciting.
What do you guys think of these?
About the Author
Other Interesting Articles